Twin Cities Industrial Sector Marked by High Demand, Exploding Liquidity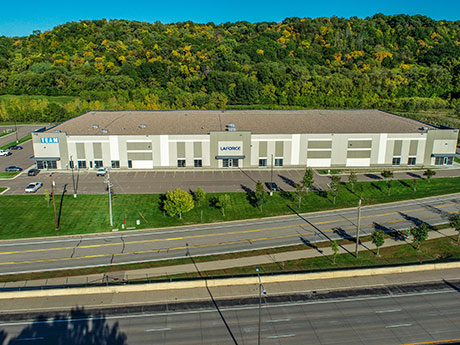 2021 has been an absolute whirlwind for the Minneapolis-St. Paul (MSP) industrial market. Plunging cap rates, liquidity growing faster than ever and a sharply felt shortage of new supply have defined the last year and will continue to define 2022.
New faces on the development side are entering the market right and left to capture the huge profits to be had from the supply/demand imbalance. New construction has been stabilizing in six to eight months and institutions have ear-marked MSP as a forward-sale market. 
The following are a few of the salient trends that should be considered when contemplating the MSP industrial market.
Liquidity growth
Since the last trough in 2016, the MSP industrial market has experienced an average 30 percent year-over-year growth in sales volume. 2021 experienced nearly half a billion dollars more in industrial investment sales than 2020, according to Real Capital Analytics.
Cap rate compression
Over the last year, the MSP industrial market has experienced change unlike in any other year. 
Entering 2021, the low-water stabilized cap rate was 5.15 percent, but by year-end, that had sunk 82 basis points to 4.33 percent. Warehouse rates in the $8 to $9 NNN range, once rare, are now commonplace; prices per square foot for class A industrial product are rapidly approaching the $200 per foot mark.
Development opportunity
The pipeline of under-construction warehouse or distribution product in MSP has historically always lagged the greater U.S. market. Our construction pipeline as a percentage of our total industrial square footage is 2.4 percent compared with the U.S. average of 3.8 percent, and we have 1.29 square feet of industrial space per capita compared with the U.S. average of 1.45.
Rent growth
Ten years ago, Minneapolis was known to have little rent growth. After institutional capital's expansion into the market in 2019, our rents have been accelerating as other large owners push rates to match what institutional capital's asset managers expect. 
Leasing teams have recently begun to quote "negotiable" on leasing flyers to avoid missing the mark on rapidly increasing rates. Don't be surprised to see $14 per foot for office space and $8 per foot for warehouse space on well-located, new industrial construction projects.
Absorption
Following a number of trends that stemmed from the COVID-19 pandemic, MSP experienced a boom in user activity. The entrance of e-commerce giants to our market, elevated inventory levels and onshoring of key industrial sectors all played a part in 2021 being the market's second-best year of absorption ever. 
Typically, Minneapolis has tenants in the market looking for 6 to 8 million square feet of new space at any one time. During 2021, that number was in the 13 to 14 million-square-foot range largely due to several 500,000 to 1 million-square-foot requirements.
In conclusion
The MSP industrial market is defined by its extremely landlord-friendly economics. While there is currently a boom in speculative construction, this is in no way enough to satisfy demand. Land pricing will continue to rise, and cap rates will continue to compress. Anyone able should be developing industrial real estate on any piece of land suitable — the tenants and the exit will be there.
Peter Loehrer is a senior associate of capital markets and investment sales for Colliers MSP. This article originally appeared in the March 2022 issue of Heartland Real Estate Business magazine.
Get more news delivered to your inbox. Subscribe to France Media's e-newsletters.
Click here.