SAN DIEGO — The University of California Board of Regents has approved plans to develop a new student center and 2,400-bed residence hall on the University of California San Diego campus. The two projects will cost $1.1 billion, according to reports by The San Diego Union Tribune. Construction on both developments is set to begin this summer.
The four-building student center, named Triton Center, is set for completion in 2026. One of the buildings will be home to the university's student health, mental health and well-being services. This property will include an urgent care space; primary care, pharmacy and wellness services; and a new home for the university's Counseling and Psychological Services department.
Triton Center will also include an alumni and welcome center; a multi-purpose building with a 500-person event space; an art gallery; and a student academic resources building.
The residence hall, Ridge Walk North Living and Learning Neighborhood, is scheduled to open in time for fall semester 2025 and will serve undergraduate students. The building will also include updated administrative and teaching space for the university's Thurgood Marshall College, School of Global Policy and Strategy, and the Department of Economics in the School of Social Sciences.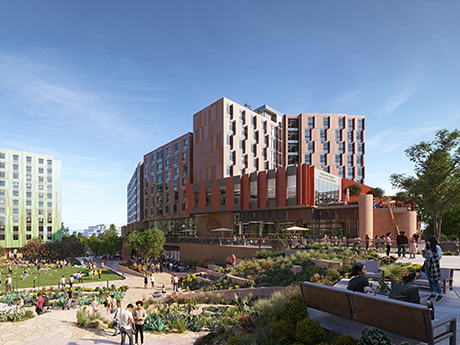 Ridge Walk will include 19 new classrooms, a 150-seat lecture hall, dining and wellness programming, study lounges, co-working space and outdoor gathering areas. The project will also feature a glass-blowing craft studio, which will be open to the public.
Units will be available at below-market rents in an initiative by the university to free up housing in the market and help lessen traffic on roads adjacent to campus. UC San Diego ranks third in the U.S. for its student housing inventory, just behind Penn State and UCLA, according to reports by the university.
"These projects mark an exciting milestone for UC San Diego," says Chancellor Pradeep K. Khosla. "They offer new housing and expanded academic space, support interdisciplinary research and cultivate community among students and our regional neighbors — all in pursuit of the intellectual, physical and cultural transformation of our campus."
These projects join another residential development currently underway on the University of California San Diego campus — Theatre Living District and Learning Neighborhood. The development is scheduled to open this fall, and will include a new undergraduate college and 2,000 beds of housing.
The university's total campus enrollment as of fall 2022 was 42,968 students.
—Katie Sloan